Do You Really Need Education To Become Rich?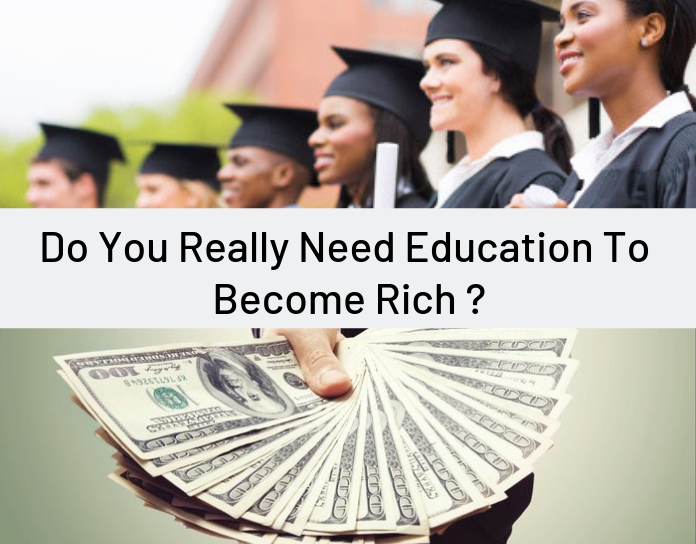 You might think that a college degree is a guarantee of success and good earnings.Let me burst your fantasy bubble, my friend, because, it is not the case and education is not a guarantee for being rich. There are several college dropouts who are earning a six-figure income, and you can also find several graduates from esteemed universities, who struggled hard to even get a basic job with the basic pay scale.
Reason why you do not need the education to be rich :-
Investing Needs No Education:-
In order to start investing in real estate, education qualifications is not a prerequisite, and hence, it is the best deal to get rich quickly. Not just residential property, but you can try your hand on the commercial property as well. There are several platforms which will allow you to start small, with less money, and once you get enough resources, you will be able to get into commercial property investment as well and get some big bucks.
Various Job Opportunities:-
In this time and age, there are several high earning professions which do not require you to have a degree. Professions like Real Estate Broker, Technical writers, etc. do not need to have a degree in order to work, and yet, they are earning a hefty amount. Moreover, learning is an ongoing process, and while working, you can always brush up on your skills to get better and have an opportunity to earn more.
Determination Over Education:-
For success and being rich, being determined and passionate is more significant than just having a degree. Elements such as passion, perseverance, grit, courage, all of these together, allow you to work for your long-term goals, and make them happen, no matter what. It is about working in the real world and not just planning, but implementing as well. And for this, you do not need any education, but simply a brave heart and hard work.
Student Debt Free Success:-
The decision of not getting a degree will save you from a monstrous necessary evil, which is, the Student Debt. Thousands of students are crippling under the debt and even after 10 years of graduation, they still keep repaying their student debt and are bound by it. Whereas, choosing not to get a degree will save you a lot of money, and keep you from stressing over the huge amount of money you have to repay. Also, this saved money can later help you in starting some venture of your own.
All these reasons fairly justify why it is not necessary to have a degree or to be educated to be rich and successful. With utilising your skills and hard work, you can be as rich as you want.